We're partnering with care providers across Australia and New Zealand to help them deliver better care with innovative technology.
We're looking for passionate people to join us on our journey as we work with industry leaders to transform the future of care services.
"At Health Metrics we're transforming and growing our business into a true best-in-class technology provider. To make that happen, we're investing in great people - experts in product management, engineering, customer experience, finance and clinical care.
We can do this because of the financial support of Tanarra Capital. And because of our convictions that we can help achieve a sustainable business model for care providers and ultimately deliver better care for society."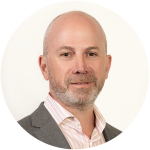 Paul Brindle, CEO
Don't see a role that matches your skills and experience? Register your interest and when a role comes up that sounds like a good fit for you, we'll get in touch.
28 November 2023
St Andrews is a not-for-profit organisation providing residential aged care, retirement living and community care services to over 600 people in the Ballina Northern Rivers and Far North Coast region in NSW. St Andrews has implemented the eCase software platform.
3 November 2023
WA Not for Profit aged care provider Amana Living has formed an agreement with technology platform Health Metrics that will see Health Metrics' eCase software implemented across Amana Living's 15 residential aged care facilities, six day clubs, 17 retirement villages and range of home care services.
25 August 2023
With the launch of the new brand position of "Taking care of care", Health Metric's eCase software platform is more ready than ever to empower providers to focus on high-quality, person-centred care.